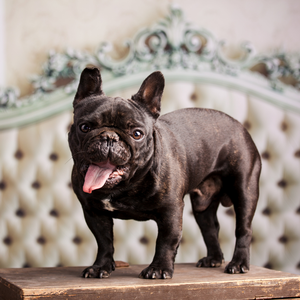 Paw Print Genetics is excited to announce that it has launched six new trait tests for coat color (Cocoa, ba allele of the B Locus, d2 allele of D Locus), coat length (Lh2, Lh4) and 'weak' furnishings (Fw allele). These tests compliment the other coat color and trait tests that PPG already offers and shows our dedication to providing the largest menu of genetic tests for dogs. The following tests can be ordered as individual tests or are now incorporated into the previously offered test. It is important to order only those tests that are applicable for your breed, so be sure to notice the breeds that can have this mutation, located in the parentheses in the name of the test. If you are unsure about ordering, please contact us as we are always happy to help you understand the usefulness of the tests that we offer.
Coat Length and Cocoa Coat Color for French Bulldogs
Prior to the discovery of the Cocoa mutation, many French Bulldogs had an untestable form of brown. Thanks to an international group of researchers, the DNA change (variant) responsible for the Cocoa coat color was identified. The ...