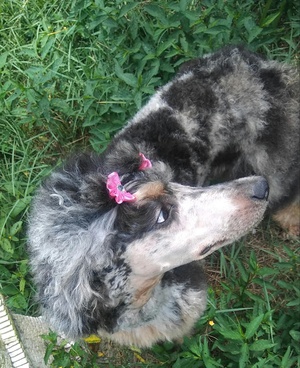 Call Name:

Dalia

Registered Name:

Mythos' May The Force Be With You
Laboratory #:

51810

Registration #:

PR19873407
Breed:

Standard Poodle

Sex:

Female

DOB:

April 2017
Dalia, or Dali as she is prefers, is a Mythos Poodles diva. She is confident and happy and we are proud to call her ours. Her disposition and excellent health are the results of our diligent research regarding her breeding and we are excited to share her results.
Other Testing, Registrations and Awards
Disease Test Results
The results listed below represent genetic disease tests performed by Paw Print Genetics on this dog and are based on the sample(s) submitted to Paw Print Genetics.
*WT - wild type (normal); M - mutant
| | | | |
| --- | --- | --- | --- |
| Degenerative Myelopathy | WT/WT | Normal (clear) | July 12, 2017 |
| Neonatal Encephalopathy with Seizures | WT/WT | Normal (clear) | July 12, 2017 |
| Progressive Retinal Atrophy, Progressive Rod-Cone Degeneration | WT/WT | Normal (clear) | July 12, 2017 |
| Von Willebrand Disease I | WT/WT | Normal (clear) | July 12, 2017 |