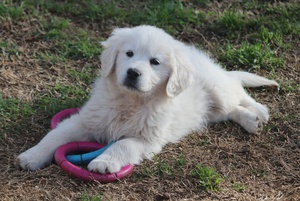 Call Name:

Zuri

Registered Name:

MMFR Zuri Flurry White Gold
Laboratory #:

119835

Registration #:

ss08890303
Breed:

Golden Retriever

Sex:

Female

DOB:

Oct. 2018
Zuri is a Full English Cream Golden Retriever. She has a very soft, white coat and also has an amazing conformation. She is so loving and eager to please us. Gets along very well with all of our Goldens.
Other Testing, Registrations and Awards
Disease Test Results
The results listed below represent genetic disease tests performed by Paw Print Genetics on this dog and are based on the sample(s) submitted to Paw Print Genetics.
*WT - wild type (normal); M - mutant
| | | | |
| --- | --- | --- | --- |
| Degenerative Myelopathy | WT/WT | Normal (clear) | Jan. 31, 2019 |
| Ichthyosis (Golden Retriever Type 1) | WT/WT | Normal (clear) | Jan. 31, 2019 |
| Progressive Retinal Atrophy, Golden Retriever 1 | WT/WT | Normal (clear) | Jan. 31, 2019 |
| Progressive Retinal Atrophy, Golden Retriever 2 | WT/WT | Normal (clear) | Jan. 31, 2019 |
| Progressive Retinal Atrophy, Progressive Rod-Cone Degeneration | WT/WT | Normal (clear) | Jan. 31, 2019 |