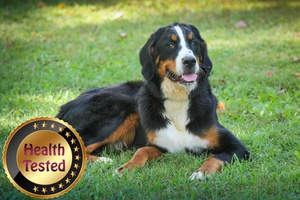 Call Name:

Rosie

Registered Name:

WVP's ROSIE
Laboratory #:

147461

Registration #:

WS55924205
Breed:

Bernese Mountain Dog

Sex:

Female

DOB:

Dec. 2016
Bernese Mountain Dog Weight: 78 lbs Height: 25 inches Rosie is one of our beautiful Bernese Mountain Dogs Mothers. She is friendly and sensitive, and loves her little ones!
Other Testing, Registrations and Awards
Disease Test Results
The results listed below represent genetic disease tests performed by Paw Print Genetics on this dog and are based on the sample(s) submitted to Paw Print Genetics.
*WT - wild type (normal); M - mutant
| | | | |
| --- | --- | --- | --- |
| Degenerative Myelopathy | WT/M | Carrier | Oct. 24, 2019 |
| Degenerative Myelopathy (Bernese Mountain Dog Type) | WT/M | Carrier | Oct. 24, 2019 |
| Von Willebrand Disease I | WT/WT | Normal (clear) | Oct. 24, 2019 |