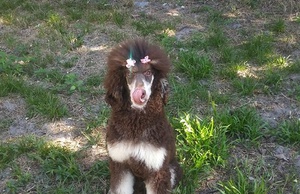 Call Name:

Tutu Pele'

Registered Name:

Blackstar's Fire Dancing with Mythos
Laboratory #:

51809

Registration #:

PR20741801
Breed:

Standard Poodle

Sex:

Female

DOB:

April 2018
Tutu Pele' is a POODLE. She is smart (sometimes too smart), graceful, and almost human. She loves prancing around showing off how pretty she is but she is also a bit of a tomboy enjoying rough housing with her siblings. Whatever she is doing, know that she is doing it with all of her and that is why we love her.
Other Testing, Registrations and Awards
Disease Test Results
The results listed below represent genetic disease tests performed by Paw Print Genetics on this dog and are based on the sample(s) submitted to Paw Print Genetics.
*WT - wild type (normal); M - mutant
| | | | |
| --- | --- | --- | --- |
| Degenerative Myelopathy | WT/WT | Normal (clear) | March 9, 2020 |
| Neonatal Encephalopathy with Seizures | WT/WT | Normal (clear) | March 9, 2020 |
| Progressive Retinal Atrophy, Progressive Rod-Cone Degeneration | WT/WT | Normal (clear) | March 9, 2020 |
| Von Willebrand Disease I | WT/WT | Normal (clear) | March 9, 2020 |