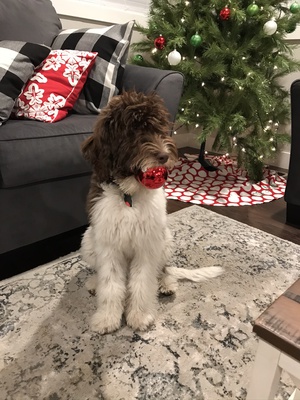 Call Name:

Chase

Registered Name:

—
Laboratory #:

149822

Registration #:

—
Breed:

Australian Labradoodle

Sex:

Male

DOB:

July 2019

Microchip #:

981020031176702

Tattoo:

—
Chase is a mini Australian Labradoodle with a beautiful wavy/staight parti coat. He doesn't know a stranger. He is super smart and fun loving.
Other Testing, Registrations and Awards
Disease Test Results
The results listed below represent genetic disease tests performed by Paw Print Genetics on this dog and are based on the sample(s) submitted to Paw Print Genetics.
*WT - wild type (normal); M - mutant
| | | | |
| --- | --- | --- | --- |
| Degenerative Myelopathy | WT/WT | Normal (clear) | Oct. 14, 2019 |
| Exercise-Induced Collapse | WT/WT | Normal (clear) | Oct. 14, 2019 |
| Hereditary Nasal Parakeratosis | WT/WT | Normal (clear) | Oct. 14, 2019 |
| Neonatal Encephalopathy with Seizures | WT/WT | Normal (clear) | Oct. 14, 2019 |
| Progressive Retinal Atrophy, Cone-Rod Dystrophy 4 | WT/WT | Normal (clear) | Oct. 14, 2019 |
| Progressive Retinal Atrophy, Progressive Rod-Cone Degeneration | WT/WT | Normal (clear) | Oct. 14, 2019 |
| Von Willebrand Disease I | WT/WT | Normal (clear) | Oct. 14, 2019 |