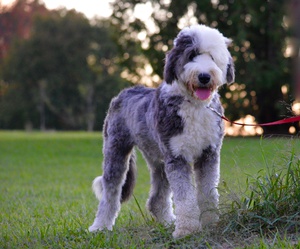 Call Name:

Sasha

Registered Name:

Miss Sasha's A Stunning Lady
Laboratory #:

144763

Registration #:

FA775344
Breed:

Old English Sheepdog

Sex:

Female

DOB:

Jan. 2018

Microchip #:

952000001079870

Tattoo:

—
Sasha is gentle, kind, easy going and sweet natured. She weighs in around 55 lbs. She is a purebred Registered Old English Sheepdog.
Other Testing, Registrations and Awards
Disease Test Results
The results listed below represent genetic disease tests performed by Paw Print Genetics on this dog and are based on the sample(s) submitted to Paw Print Genetics.
*WT - wild type (normal); M - mutant
| | | | |
| --- | --- | --- | --- |
| Degenerative Myelopathy | WT/WT | Normal (clear) | Oct. 14, 2019 |
| Exercise-Induced Collapse | WT/WT | Normal (clear) | Oct. 14, 2019 |
| Multidrug Resistance 1 | WT/WT | Normal (clear) | Oct. 14, 2019 |
| Primary Ciliary Dyskinesia | WT/WT | Normal (clear) | Oct. 14, 2019 |